Term 1, Week 9 – Friday 8 April 2022
Kia ora
Our responsibility as educators is to provide the right conditions for the students in our care to shine. Finding something that spins the wheels of each child in my class was always a challenge, you could usually get close but 100% was hard to achieve. Luckily the environment is something that all young people seem naturally curious about and defend with a passion. It worked every time.
My favourite book as a child was Farewell to Shady Glade by Bill Peet. If you have not read it, a group of animals led by a raccoon live in Shady Glade. As the bulldozers move in to swallow up the only home they have ever known they escape on a train. When the train stopped due to a rock slide the troop of animals abandon the train to an equally perfect spot. With a winding creek, large tree and bush surrounding them they were back in their happy place. It might have been written in 1966 and contain a variety of diggers and bulldozers (to be fair my favourite part) however the environmental message has not been lost in translation despite the age of the story.
Long Bay Primary is blessed to be located in an outstanding setting. Our students lose themselves in the bush at either end of the field during breaks. They have a large space to move about and explore and make the most of it. They are also passionate guardians of our place. Room 21 is leading the charge. They have spent their breaks scouring the school for rubbish. So much so that they have made themselves redundant, with nothing left to collect in the last few days. The R2D2 award proudly on display in their room for an outstanding contribution to the school environment will not be going anywhere if they have a say in the matter.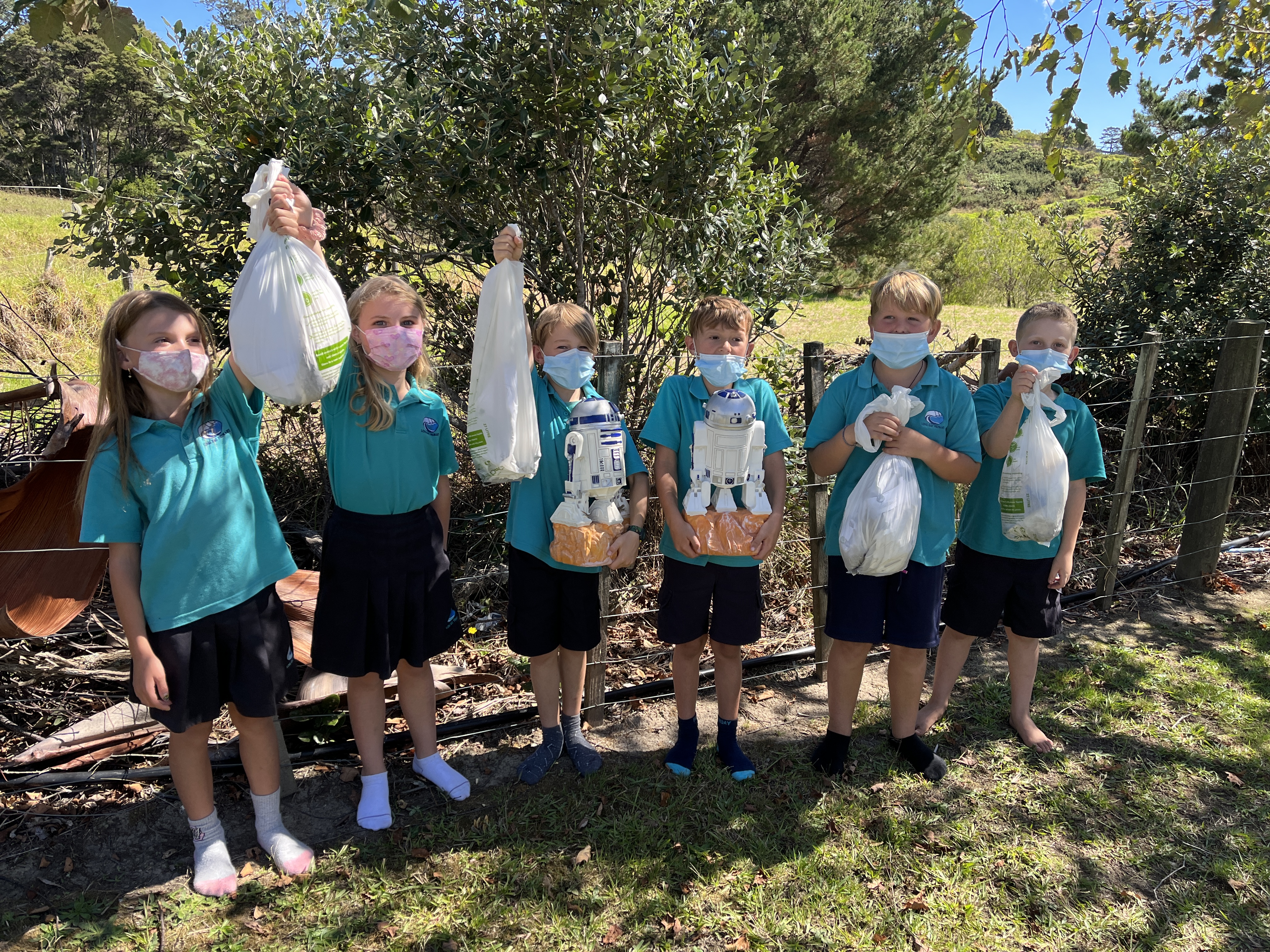 Our little piece of paradise will not be paved to put up a parking lot anytime soon. In fact quite the opposite. We have a Shady Glade of our own to the south west of the school, on our land, that is just asking to be turned into an outdoor classroom. A place where teachers can take their classes to explore, to learn and to have fun. Just please don't let your children know yet, or I will end up with yet another petition on my desk for sure! When we are ready our students will not only be at the centre of our plans, they will also also help to plan and develop this area to help release its full potential.
Enjoy the holiday break, keep safe and we look forward to having everyone back safe and sound next term.
Rob
Tumuaki/Principal
Support our School by re-gifting tax rebates via myKindo. If you are one of many NZ families who do not collect your donation tax rebate each year, here's an easy way to support our school.
Next time you pay a donation on myKindo, you'll be offered to register with TaxGift. By registering with TaxGift, Kindo enables you to automate claiming the 33% tax rebate on your behalf (Kindo supplies the receipts directly to them). Rebates are then re-gifted back to the school as a new donation, to be used for enhancing the learning environment which will benefit all of the children across the school.
How it works:
Simply amplify your donation on myKindo after your order is processed
Select TaxGift
Check the circle next to our school
That's it, you have now registered to donate your tax rebate back to school – thank you.
Need assistance? Our Kindo help desk is open 8am to 4pm weekdays.
Absences
If your child is going to be absent from school, you need to inform the child's teacher and the Office. Please call 09 473 6077, email admin@longbayprimary.ac.nz or click here to report an absence. If your child is late to school, they must call into the Office to collect a late pass.
If your child has tested positive for Covid 19, you need to inform the school as soon as you are able to. Please click here to complete the Google form.
Safe Speeds School Programme is coming to Long Bay
Auckland Transport is going to lower the speed limit on a large number of streets around Long Bay Primary from 28 July 2022. You can view a map of the streets that will be impacted by clicking here.
Patience at the School Gate
We appreciate that at times the traffic outside the school gate can be frustrating with a line of cars waiting to pick up or drop off students. Our absolute main concern is the safety of our students and the school community. Please be patient and wait for your turn when you are in the line. This will allow the traffic to move more swiftly and safely. If you are parked in the middle car park please hold your child's hand when you are crossing the road.
Wheels Day – 12 April
We are looking forward to our first Wheels Day of the year on Tuesday 12 April. All forms of wheels are welcome, however they must be accompanied by a helmet.
Water Bottles
Please send your child to school with a filled water bottle, ready for them to start the day. This is to avoid children becoming dehydrated.
Nut Free and Wrapper Free
Long Bay Primary is a nut free and wrapper free school, please remember to remove wrappers prior to filling the lunch box. We do have a number of children that have a severe allergy to nuts and we ask parents not to include any nut products in their children's lunches.
Covid-19 Update
We continue to follow advice from the Ministry of Health and Education to keep our school community safe. Our key methods to do this include:
Mask wearing for staff and Year 4 to 6 students while inside

Hand washing

Hand sanitiser

Natural ventilation of indoor spaces

High cleaning standards

Staying home if feeling unwell
We will continue to advise you if a member of the class has potentially been infectious while at school. At this stage we have had a total of 17 students who have tested positive in our school community since the beginning of the year. There is no evidence that there has been transmission between students or staff and students while at school. We are confident that if we continue to follow our plan this will continue. Please understand that we are required to send any student or staff member home who displays flu-like symptoms. Only send your children to school if they are well.
We have had a brilliant day today with a myriad of colours on display. Thanks to our school community we are able to donate $630.70 to the Save the Children Fund.
2022 Term Dates and What's On
Thursday 3 February – Wednesday 13 April
Tuesday 12 April – Wheels Day
Wednesday 13 April – Last day of Term 1
Thursday 14 April – Teacher Only Day (school closed)
Monday 2 May – Friday 8 July
6 June – Queens Birthday Public Holiday (school closed)
24 June – Matariki Public Holiday (school closed)
Monday 25 July – Friday 30 September
Monday 17 October – Friday 16 December
24 October – Labour Day Public Holiday (school closed)
A warm welcome to our new students who have started at Long Bay Primary since our last Newsletter:
Fitu, Hailee and Bella
Donation Receipts via myKindo
Accessing your donation receipts on Kindo
You can view all your purchases, top-ups, refunds, cancelled orders and donation receipts using the 'my orders' option.
From the record type, you can select donation receipts, and choose to download individual receipts or download a summary of all your donation receipts.
More detailed instructions can also be found on the Kindo online support pages.
We have a huge collection of lost property items at school – mostly unnamed. Please look at the items below and ask your child to collection any missing items. All named items are returned to the student.
Sports Buzz – Term 1, Week 9
Rippa Rugby/Flippaball
We are looking for any Year 3-4 girls to play rippa rugby. It's a non-contact sport – students just need to enjoy running, have ball-handling skills and lots of enthusiasm. Please contact
nikkid@longbayprimary.ac.nz
if your child is interested.
Also, any students from Years 2-6 who would like to play flippaball in Term 2 need to urgently register via
Long Bay/Kindo
.
Yummy Stickers
We are still collecting Yummy stickers – the sheets for these are available in the office. Every Yummy apple sticker earns the school points towards purchasing sports equipment.
For new families to our school, in previous years we have held events such as disco's, light up the playground, ice block days and movies in the park to name a few. We are in need this year of new families to join our team. If you would like to know more and/or want to meet parents within the school, we welcome you to join one of our meetings to see what we are about.
The next PTA meeting is Tuesday 10 May. Email us at longbayprimarypta@gmail.com to let us know you're attending or for any PTA enquiries. New members welcome!
Community Events and Notices