Term 3, Week 1 – Friday 29 July 2022
On Tuesday the school gathered in groups on the court in eager anticipation. There was a speaker setup, students standing in front of them, a hum in the air (luckily it was also between downpours which was rather handy). Waiting for the show to begin our students were excited to see what was about to happen to entertain them. Little did they realise that instead of watching, they were going to be the show. Soon afterwards Born to Move became a feature here at Long Bay Primary.
Born to Move is an initiative started by Les Mills to get people of all ages active. Gone are the days of Suzy Aitkin in her fluro Aerobics gear on the TV screen. Instead this is movement run by students, for students, and they loved it.
The basic idea is that our students are trained to lead a session for their peers moving to music. They stretch to warm up, give simple directions while also demonstrating what they are doing, and then proceed to lead the group. There is no doubt the Madonna style headset microphones used have a 'cool factor' that really helps.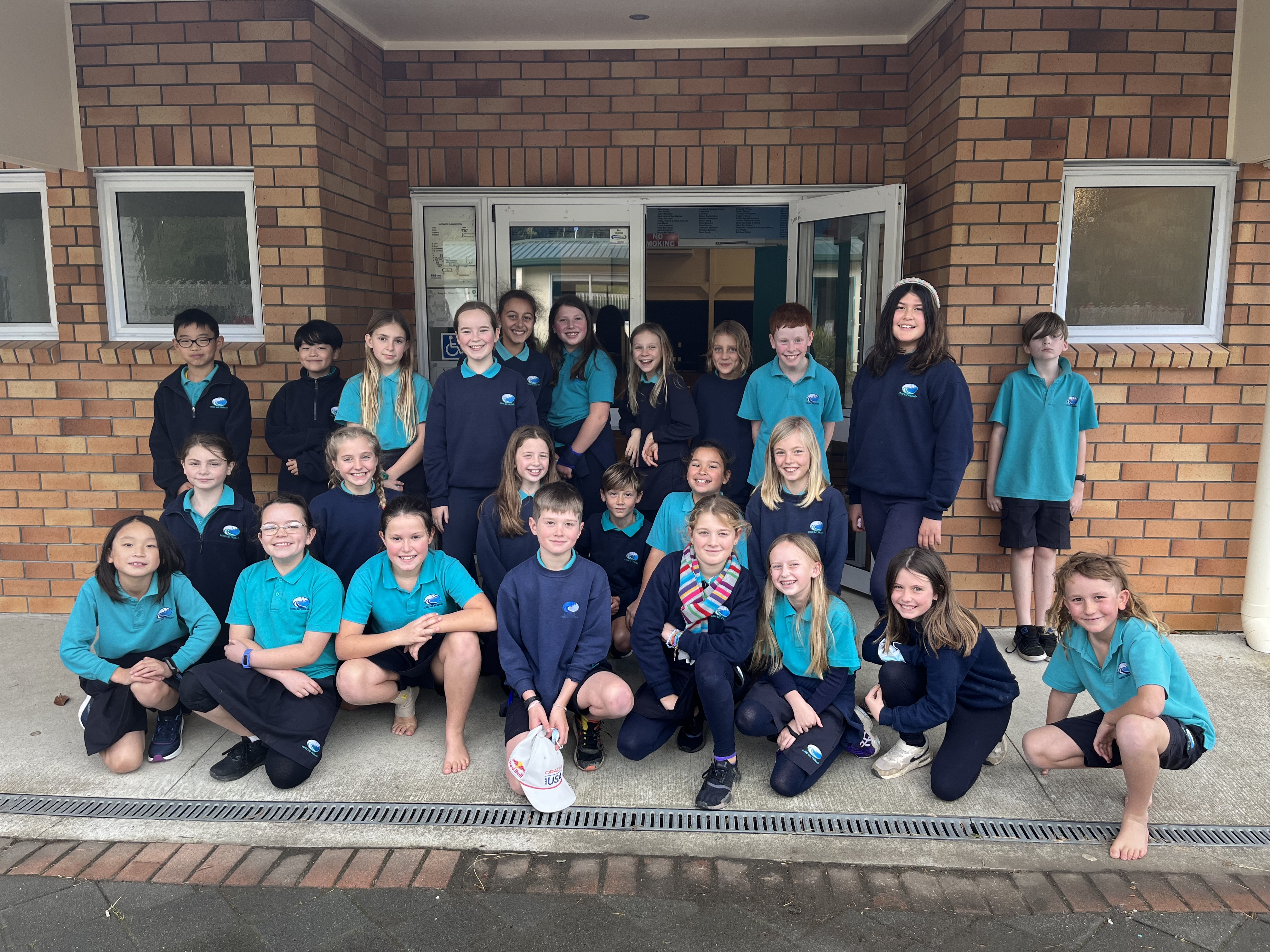 The good news is Born to Move is not restricted to just our students. There is a community side to it as well. On Friday 12 August and 2 and 23 September you have the opportunity to be involved as well. Just meet us outside the Hall at 1.25pm with a positive attitude and we will take care of the rest. The best news of all – Lycra is not compulsory.
If we can produce a 2022 version of Suzy that will be great, if not our time will not be wasted. We will have fit, engaged young people enjoying themselves and having fun. They might also pick up some great moves they can use later in life on the dance floor, I won't take responsibility for that, but given my ability, I look forward to picking up some of my own (the sprinkler seems very 2014…).
Rob
Tumuaki/Principal
2022 Term Dates and What's On
Monday 25 July – Friday 30 September
1 August – Bricks 4 Kidz in the Library after school
2 August – PTA Meeting, 7.00pm in the Staffroom
4 August – Kowhai trip to Auckland Zoo
8 August – Year 6 visit Northcross Intermediate School
8-12 August – Maths Week
11 August – Rimu trip to MOTAT
17 August – Kristin Winter Sports Day
23 August – Manuka Rooms 11 & 17 to Maritime Museum
30 August – Manuka Rooms 12, 18 & 19 to Maritime Museum
Monday 17 October – Friday 16 December
24 October – Labour Day Public Holiday (school closed)
To help you plan ahead for next year here are the school dates for 2023:
Term 1 2023: Tuesday 31 January – Thursday 6 April
Term 2 2023: Wednesday 26 April – Friday 30 June
Term 3 2023: Monday 17 July – Friday 22 September
Term 4 2023: Monday 9 October – Friday 15 December
There will be a Teacher Only Day on Monday 24 April and Friday 2 June.
Public Holidays 2023
Auckland Anniversary Day – Monday 30 January
Waitangi Day – Monday 6 February
Good Friday – Friday 7 April
ANZAC Day – Tuesday 25 April
Queen's Birthday – Monday 5 June
Matariki – Friday 14 July
Labour Day – Monday 23 October
A warm welcome to our new students who have started at Long Bay Primary since our last Newsletter:
Miya, Harper, Finnley, Zoe, Abigail, Amy, Bobby, Aiden, Wesley and Oliver
School Security and Evacuation Concerns
This week various schools across New Zealand have been the subject of bomb threat phone calls. We take the health and safety of all staff and students at Long Bay Primary very seriously. Please be assured that in the event of an emergency we have robust procedures in place that will keep everyone safe. This year we have already run two fire drills and have a lockdown drill planned for this term. The day before our lockdown drill takes place we will let you all know it is going to happen. This will be an opportunity for us to test our communication with you as well as the process that happens at school.
We are using Seesaw as a key piece of our communication plan. It is quick for us to send messages out to the correct audience effectively. This week Auckland Transport has had issues with the Torbay bus and we used Seesaw to communicate this. Please take a moment to check your Seesaw app to ensure you have accepted invitations to any groups you have been invited to. If you do not have the app on your phone please follow these links:
IOS App Store (Apple iPhone)
Google Play Store (Android Phones)
If you are not sure how to get connected to your child or have lost your login details please check your emails for a Seesaw invitation, which needs to be accepted.
School Policies and Procedures
Our school Policies and Procedures have gone online.
We would like you all to be involved with our School Policies and Procedures. Each term there are a selected that you can check and review. We would like to hear your voice as part of this process. Information on how to access the site is listed below.
Search our school – it is called Long Bay School on the website. Then use these login details:
Community username: longbayprimary
Community password: beach
Once logged in, click on the top tab – current review. Each topic under review is in blue font. In each topic there is a green speech bubble, this is where you can send a message to the school with any feedback you have.
Road Safety in Ralph Eagles Place
Last term we contacted Constable Simon Fox at the Browns Bay Police Station about general security in the local area and anything the New Zealand Police can do to assist us to keep the school and community safe. He came to visit us at the start of the day on Tuesday this week. While standing at the gate he identified distractions and restraints as two issues that concerned him.
Due to the dead end nature of Ralph Eagles Place and the number of children who walk in and around the school gate we all need to be extra vigilant during pick up and drop off times. Constable Fox came back to visit us yesterday morning. He stood up at the drop off zone checking that drivers are focused on the road (not their phones). He was also checking to make sure students and parents were correctly wearing their seat belts and car seats are being used properly.
Simon is the local Community Constable working between Okura and Murrays Bay. He has been very supportive of all of the schools in the area and we look forward to working with him closely in the future.
Today Room 7 celebrated 100 days at school. We have been playing math games, counting out 100 objects, found different ways to make 100. We also wrote about what we would be doing when we turn 100!
Long Bay Primary invites nominations for the election of 5 Parent Representatives to the School Board.
It is a great opportunity to support your child's school. Working with the Principal and your fellow Board members, the Parent Representatives help provide governance, oversight, and strategic direction for the term of three years.
The role involves attending up to 11 meetings per year – we usually have 8 meetings. Our meetings have been from 6.30pm until around 9.00pm, sometimes earlier. There will be reports to read the weekend before the meeting and small things to do between meetings, depending on your role. Our School Board is comprised of the Principal, 5 elected members of the community, and a staff representative.
Autumn Facer, our current chairperson, and other Board Members are happy to talk to anyone who may be interested in becoming a Board Member. Please email: theboard@longbayprimary.ac.nz

Register and submit a nomination through our election website longbay.boardelections.nz or by visiting boardelections.nz and searching for Long Bay School.
Those nominated will provide the school community with a synopsis of why they are interested in standing for election and the community will have an opportunity to vote in early September. The new School Board will then take effect after the election. Nominations close Wednesday 3 August at 12:00pm.
Join the Walking School Bus
Keen to make school drop off/pick up easier and stress free? Meet other local parents and get some fresh air and exercise? Have your kids arrive to school energised and ready to start their days learning while meeting new friends? A walking school bus is a group of children who walk together to/from school with parent supervisors along a set route. Long Bay Primary School have 2 routes we want to get up and running, come and give it a try!
Ridge Park Route
Where: Outside Ridge Park on Headland Drive
When: We need you! If you are keen to join this route please get in touch and we can schedule for a day that suits.
Contact Sarah if you are interested in helping on this existing route: s.a.tallentire@gmail.com
Moki Place Route
Where: Meet corner Pennant St and Moki Place
When: We need you! If you are keen to join this route please get in touch and we can schedule for a day that suits
Contact Louise if you are interested in helping get this route up and running: louise.cameron@at.govt.nz
Northcross Intermediate 2023 Enrolment Information
Important School Reminders
Absences
If your child is going to be absent from school, you need to inform the child's teacher and the Office. Please call 09 473 6077, email admin@longbayprimary.ac.nz or click here to report an absence. If your child is late to school, they must call into the Office to collect a late pass.
If your child has tested positive for Covid 19, you need to inform the school as soon as you are able to. Please click here to complete the Google form.
School Uniform
We like to instill a sense of pride in our school's uniform. Please ensure that your child is wearing the correct uniform when they come to school—so please NO bright or striped tights/leggings or different jumpers. There is a selection of second hand uniform for sale in the office or you can buy directly from NZ Uniforms at 19 Douglas Alexander Parade, Albany.
Water Bottles
Please send your child to school with a filled water bottle, ready for them to start the day. This is to avoid children becoming dehydrated.
Nut Free and Wrapper Free
Long Bay Primary is a nut free and wrapper free school, please remember to remove wrappers prior to filling the lunch box. We do have a number of children that have a severe allergy to nuts and we ask parents not to include any nut products in their children's lunches.
Sports Buzz – Term 3, Week 1
Yummy Stickers
Keep collecting all your Yummy Stickers! The more stickers collected, the more sports equipment we receive. Yummy Sticker sheets are available from the Office.
We are a charity with fundraising going directly to our school, we try to avoid as much cost so we can keep it this way.
We are seeking someone with a financial background, who is willing to volunteer their time, to do an annual review of our accounts, as a checks and balance process. If this is something you would be able to assist with, please get in touch
longbayprimaryPTA@gmail.com
If you would like to know more about the PTA please feel free to get in touch we welcome your ideas, suggestions and feedback.
Our next meeting is on Tuesday 2 August,
email us at
longbayprimarypta@gmail.com
to let us know you're attending.
New members always welcome!
Community Events and Notices