Senior Leadership Team
Linda Barton
Principal

Linda has been the principal at Long Bay Primary School since 2011. She has a Bachelor of Education, two Post Graduate degrees and was awarded an Auckland Primary Principals Travelling Fellowship in 2016. Linda has been a teacher for many years, she has strong senior management experience and has worked with students from New Entrant to Year 8 level. During her career Linda has worked in a range of wonderful Auckland schools from urban to rural, from 100 to over 1000 students (Whenuapai, Taupaki, Glen Eden Intermediate, Waioneke and now Long Bay Primary). Linda is passionate about teaching, and enjoys working with her colleagues and being part of a school community. In their spare time Linda and her husband Bruce love outdoor activities like fishing and camping, and enjoy spending time with their family. Being grandparents to their three grandsons is a special joy.
Jo Patrick
Associate Principal

Jo began her role as Associate Principal at LBPS in 2006. She has a Diploma in Teaching and Bachelor of Education from Waikato University, trained to teach English as a Second Language in London,and has completed a Masters in Education (Honours) with the University of Auckland. She has been a classroom teacher for many years: in Whakatane for her first year, at Sherwood School, Browns Bay in 1985 and 1986, Aycliffe Drive JMI in Hemel Hempstead in the UK for two years, and Milford and Marina View Schools in Auckland in the early 1990's. Jo developed a particularly strong interest in maths teaching in the 1990's, and worked on a Ministry of Education contract 'Parent Education in Relation to Maths' in 1995. She lectured in maths education at Auckland College of Education and was a Maths Adviser and Numeracy Facilitator based at the University of Auckland Faculty of Education for seven years. Jo currently leads the numeracy curriculum team. Jo lives locally with her family.
Julie Butler
Associate Principal (SENCO)

Julie Butler has been a member of the Long Bay Primary staff since 1996. After many years as a full-time classroom teacher and team leader, in 2017 Julie moved out of the classroom and into a three day week. As our school SENCO Julie has a specific focus on assisting special needs and ESOL students. She has lived in Torbay for the last twenty eight years and enjoys meeting past and present students and their families at the local beaches and shops. Julie has three children, now well into their twenties, who have all attended Long Bay Primary and the local schools.
Support Staff
Sandra Nicholls
Office Administration

Sandra emigrated from the UK in 2004 with her husband and two sons. Before Sandra immigrated to New Zealand, she had worked as an administrator with a large electrical industry in the UK and as a PA for an investment and mortgage company. Prior to starting at Long Bay Primary in 2014, she worked as an office administrator at Rangitoto College for nine years. Sandra enjoys being part of Long Bay Primary and enjoys working with the younger students.
Lorna Corrie
Office Administration

Lorna joined Long Bay Primary in May 2016. She has a background in Event Management and Administration and previously worked in the Royal New Zealand Air Force. She lives locally with her husband and two daughters. Lorna enjoys working with and looking after the school students.
Sandy Tickner
Office Administration

Sandy has been at Long bay Primary since 2006, initially as a teacher aide. She is currently responsible for the financial administration within the school and the person to see if you have queries with financial matters. Sandy lives locally and loves to spend time with family and friends.
John Underwood
Property Manager

John is an experienced property manager. John worked as both a builder and a forest ranger prior to managing school property. He was employed at a primary school in Perth for three years and at Westlake Girls High School for 14 years. John loves living on the North Shore and enjoys being at Long Bay Primary.
Kōwhai Team (New Entrant to Year 1)
Kowhai Team
Tarina MacKay
Teacher, Kowhai Team Leader
Room 2
Tarina joined the Long Bay Primary New Entrant team in 2017 after graduating from AUT with a Bachelor of Education in Primary Teaching. Tarina has always had a passion for working with children and enjoys building learning relationships that foster the development of the whole child. Tarina grew up on the North Shore and lives locally with her husband and children. She loves the beach, spending time with family, keeping fit and enjoying the outdoors.
Dee McGibbon
Release Teacher

Dee completed her Bachelor of Education (Teaching) degree at the University of Auckland in 2011. Dee's first role was teaching a new entrant class at Oteha Valley school in 2012. She joined Long Bay School's teaching team in 2013. Dee is an experienced new entrant teacher who considers it a special privilege to be a child's first teacher. She strives to create and instill a love of learning in all her students. Dee lives in Long Bay with her husband and two sons. She enjoys reading, coffee with friends and walking their rescue dog Eddie.
Helen Fairclough
Teacher

Helen Fairclough is an experienced junior school teacher who has been teaching Year 0 and 1 children at Long Bay Primary since 2007. Helen has been teaching for over thirty years. She trained as a teacher in the UK and has taught a range of classes from nursery aged children (kindergarten) to Year 2. She taught mainly in the North of England. Since migrating to New Zealand, Helen taught at Coatesville and Kaukapapa Schools prior to Long Bay. At Long Bay, Helen has held a number of responsibilities; she has contributed to curriculum development (most recently in Science, and as a teacher librarian) and has been a team leader. Helen lives on the North Shore with her family.
Irene Navarro
Teacher
Room 3
Irene recently completed her Masters of Teaching Primary with the University of Auckland. In 2016, Irene had the opportunity to teach English to students in South Korea where she found her true passion for teaching. Irene joined Long Bay Primary in 2018 as a beginning teacher. Irene aims to develop a positive, respectful and inclusive learning environment wherein all students are able to achieve and succeed. Irene came to New Zealand in 2006, from the Philippines where she was born and raised. She enjoys reading books and is passionate about the arts.
Jitka Bloomfield
Teacher
Room 5
Jitka emigrated from the Czech Republic in 2004, where she was a qualified early childhood and primary school teacher. Whilst in New Zealand, she has worked at Kelston Deaf Education Unit as a teacher using New Zealand Sign Language, and at nature kindergartens, such as 'Play and Learn' and 'Conscious Kids'. She has also been active in the 'WaterWise' program as an instructor. Jitka joined Long Bay Primary in 2015, initially as a reliever, prior to her full-time appointment in 2016.
Rimu Team
Dianne Mayall
Teacher, Rimu Team Leader
Room 10
Dianne completed a Bachelor of Social Work and Post Graduate Diploma in Primary Teaching at Massey University in Albany. She has been teaching for thirteen years and during that time has experienced teaching at all year levels. Prior to coming to Long Bay Primary, Dianne worked at Gulf Harbour School and Takapuna Primary. She is passionate about using an inquiry approach in her classroom that encourages wonderment and curiosity so students become excited and inquisitive about their learning.
Fenneke Gingell
Teacher, School Library Lead
Room 11
Fenneke worked in Textile Sales and Marketing in South Africa. She immigrated to New Zealand in 2004, and worked as a part-time retail assistant in a scrapbooking shop. She graduated with a Bachelor of Education (Early Years) in 2012. As a beginning teacher, Fenneke relief taught at Long Bay Primary, before accepting an offer of full-time employment at Riverhead School, where she taught in the Junior School. She was part of the Innovation Team there, leading an inquiry into the implementation of Project Based Learning, influenced by the Reggio Emilia philosophy. The concept of PBL is focused on the teacher responding to the children's interests and their curiosity, while linking teaching of the NZ Curriculum areas. Fenneke feels passionate about finding different ways of engaging children and finding meaningful context for their learning. Fenneke returned to Long Bay on a permanent basis in Term 3 of 2017.
Claire Dowson
Teacher
Room 12
Sharon Smith
Teacher
Room 12
Sharon has 28 years of teaching experience of all year levels from Year 1 to Year 8 students, in Auckland and London. She has a Bachelor of Arts in English Literature and a Diploma of Teaching from the University of Auckland. She is currently completing a post-graduate diploma in Digital and Collaborative Learning. Sharon lives locally in Torbay with her family. She loves to cook for family and friends and has a passion for art; she enjoys painting and casting glass sculptures in her spare time.
Manuka Team
Rebekah Webb
Teacher
Room 6
Rebekah is originally from Northern Ireland and completed her teacher training in Scotland, graduating from the University of Edinburgh with a First Class Honours Bachelor of Education. She taught in Scotland before moving to New Zealand in 2016. Since her arrival in NZ, Rebekah taught the junior reception class at Bayview Primary School, then came to Long Bay in 2019. Having recently moved to the area of Torbay, she is excited to be a part of the Long Bay team and feel more a part of the local community. Rebekah is passionate about building lasting and positive relationships with her students, making them feel valued and cared for in their classroom environment. In her spare time Rebekah teaches private piano lessons and enjoys playing the piano herself. She also enjoys spending time at the beach, paddle boarding, doing arts and crafts, reading and hiking.
Lisa Leggett
Teacher, Manuka Team Leader, Community Learners Within School Lead Teacher
Room 8
Lisa joined the Long Bay team in 2018. She has 20 years teaching experience across all year levels and prior to Long Bay spent 10 years at Forrest Hill School. Lisa has a Masters in Education, which she completed while teaching in Melbourne. Lisa has a passion for student agency and fostering a growth mind-set in students. Lisa lives in Browns Bay with her husband and two boys. They enjoy spending time at the local beaches and playgrounds.
Diane Edgoose
Teacher
Room 7
Diane has worked at Long Bay since 2005. She has taught students from Years 2 to 6. She has a love for teaching children and enjoys supporting learning across the curriculum. Diane has been teaching since 1998. She has a Bachelor of Education and a Diploma of Teaching. She started her career teaching at Mt Roskill Primary, then moved on to Long Bay. She has a passion for sport, numeracy and using Assessment for Learning effectively in the classroom. Diane loves spending time with her husband James and their children, Jake and Emma.
Amber Hobbs
Teacher
Room 9
Amber joined the Long Bay team in 2019 as a beginning teacher. She has a Graduate Diploma in Primary Teaching from Massey University in Albany and a Bachelor of Arts in Communications from the University of New Orleans, in the USA. Prior to teaching Amber worked in the publishing industry as a graphic designer for fifteen years and taught multimedia design at the tertiary level.
Nikau Team
Steve Anderson
Teacher, Nikau Team Leader
Room 14
Steve started teaching at Long Bay in 2015. Prior to embarking on a teaching career, Steve was a well-travelled travel agent. Steve enjoys keeping fit and plays soccer in his spare time.
Kate Porter
Teacher
Room 15
After graduating with a Bachelor of Education in primary teaching from AUT, Kate joined the Long Bay team in 2018. Kate is particularly passionate about Literacy and the Social Sciences. She hopes to encourage students to share her love for reading. She believes it is important to create a learning environment where students feel confident and supported. Kate lives on the North Shore and enjoys spending her spare time outdoors, especially at the beach.
Jonathon Oates
Teacher
Room 16
Totara Team
Ellis Walker Bell
Totara Team Leader, Teacher
Room 23
Ellis joined the Long Bay primary teaching staff in 2017 having spent the previous 5 years teaching in West Auckland. She graduated from Massey University in 2011 having decided on a change in career. She has taught from year 3 up and enjoys the excitement and curiosity that teaching brings. When not teaching, Ellis enjoys gardening and growing veggies, loves walking and spending time at the beach. She also loves enjoys cooking and sharing food with family and friends. Ellis lives locally with her husband and two teenage boys.
Kathryn Hohaia
Teacher, Community Learners Within School Lead Teacher
Room 22
Kathryn graduated from Auckland College of Education in 1990. She has taught levels 0 – 6, predominantly in the year 5/6 area. As well as classroom teaching Kathryn has had experience in team, maths and sports leadership and has spent a decade in the role of music specialist. Kathryn enjoys the challenge of creating and tailoring an engaging classroom programme which caters for the needs of all her students. Kathryn moved to Browns Bay when she was 4 years old. She attended Torbay Primary, Northcross Intermediate and Long Bay College. Kathryn loves living in the Bays with all it has to offer, so no surprise when she chose to raise her family, now young adults in Browns Bay too! When not at work Kathryn enjoys spending time with her family, playing sport together or going to the beach. She also likes to read and potter in her garden.
Pip Rive
Teacher
Room 20
Pip has been teaching since 2003, working in Manurewa, London, and across the North Shore. She has taught all year levels over her teaching career. Pip started at Long Bay Primary in 2020. She is married with 3 children and has lived in the area most of her life attending Long Bay Primary, Northcross Intermediate and Long Bay College. In her spare time she enjoys reading, walking and spending time with her friends and family.
Briar Porter
Release Teacher

Briar has worked at Long Bay since 2006. Before teaching she completed a Bachelor of Science Degree in Psychology in Wellington, has lived and taught English in Japan and completed her Post Graduate Diploma of Teaching. Briar has spent time teaching across the levels within school from Year 1 to Year 6, with the majority of her teaching being with Year 3 & 4. She enjoys getting to know student's individual strengths and talents and watch as their confidence in both their academic and social capabilities grow throughout their time at Primary school. She has a keen interest in e-learning, Māori language and sport. In her free time Briar enjoys spending time at the beach with her husband and their two children.
Elisha Russell
Teacher
Room 25
Kauri Team
Miranda Kelly
Teacher, Kauri Team Leader, Community Learners Within School Lead Teacher
Room 17
Miranda has been teaching since 2001, working in Palmerston North, Blenheim and Auckland with children from Year 0 to Year 13. She is passionate about helping children to progress in their learning. Miranda can play the piano well and has taught singing at NCEA Level 3. Miranda has been a great support for the Long Bay Arts programme, including writing and providing music direction in the school musical, and coordinating the music tutor programme. She is married to Phil and has two sons.
Mark Wallace
Teacher
Room 18
Mark spent 23 years working as a stevedore before attending university to follow a dream of being a teacher. He completed his Bachelor of Education through AUT, and graduated at the end of 2017. Mark lives on the Hibiscus Coast where he grew up, with his wife and two daughters. His family love the lifestyle of living near the beach. Mark is a massive rugby league fan. In his spare time he participates in a weekly event called Parkrun, where he runs 5km or volunteers as an official. This has helped Mark keep fit, and led to him entering other events, including half marathons. Mark is enjoying his new career choice here at Long Bay Primary.
John Keoghan
Teacher, co-teaching with Nikki Douglas, eLearning Lead
Room 19
John joined Long Bay Primary in 2017, after 6 years at Forrest Hill School and more recently, 3 years at Windy Ridge Primary. He has experience teaching a range of levels from years 2-6 and is involved in our school E-Learning and Sports curriculum teams. John has a Post Graduate Diploma in Primary Teaching, a New Zealand Certificate in Architectural Design and prior to teaching spent 13 years as an Architectural Designer in the commercial industry. John lives locally and has 3 children. Outside of school he enjoys getting out in the boat for a fish and a quick surf with the kids.
Nikki Douglas
Teacher, co-teaching with John Keoghan, Drama specialisation, Sport Lead
Room 19
Nikki trained at Auckland Teachers College and taught for a few years before heading to Europe for her OE. On returning she did a variety of jobs ranging from copywriting for a tax and business law publisher, to production and advertising for the National Business Review and finishing a Diploma in Massage Therapy. As well as teaching in Room 19, Nikki also holds a variety of positions at Long Bay Primary, including drama specialisation and sports coordinator. Nikki has also shared her arts talent through writing and directing our full school productions.
Additional Part time Teachers
Additional Part Time Teachers
Ann Grayson
Dance and Release Teacher

Ann Grayson first joined the Long Bay staff in 1996 as a part-time teacher. She returned to teaching after spending 10 years working in the fitness industry. Ann has taught across the school at all levels in a variety of roles including job-sharing, senior staff release and specialist dance teacher. Ann has run a variety of dance groups in school during lunchtimes. She also has a passion for art which she enjoys teaching throughout the school and enjoys painting in her spare time.
Anne Kelly
Reading Recovery and Learning Support

Anne Kelly completed a four year Bachelor of Education Degree and then taught as a classroom teacher in East London for 12 years. She moved to New Zealand in 1998 taking up a classroom teaching position in a school in West Auckland. Anne is living locally in Torbay with her family and has been teaching Reading Recovery at Long Bay Primary since 2007.
Victoria Koopen
Release Teacher

Victoria graduated from Hamilton Teachers' College and Waikato University in 1990 and has taught in Thames, London, Wellington and Auckland. Victoria is a trained and experienced Reading Recovery Teacher and has an interest and strength in Te Reo Māori. She has taught part time at Long Bay Primary in a variety of roles; specialist Māori teacher (including kapahaka), special needs support and release teacher, and as a netball coach.
Emily Sherpa
Release Teacher

Emily is an experienced teacher who was a regular reliever before joining the teaching staff at Long Bay. Emily lives locally with her family, and her boys attended Long Bay Primary.
Louise Lumsden
Music Specialist Teacher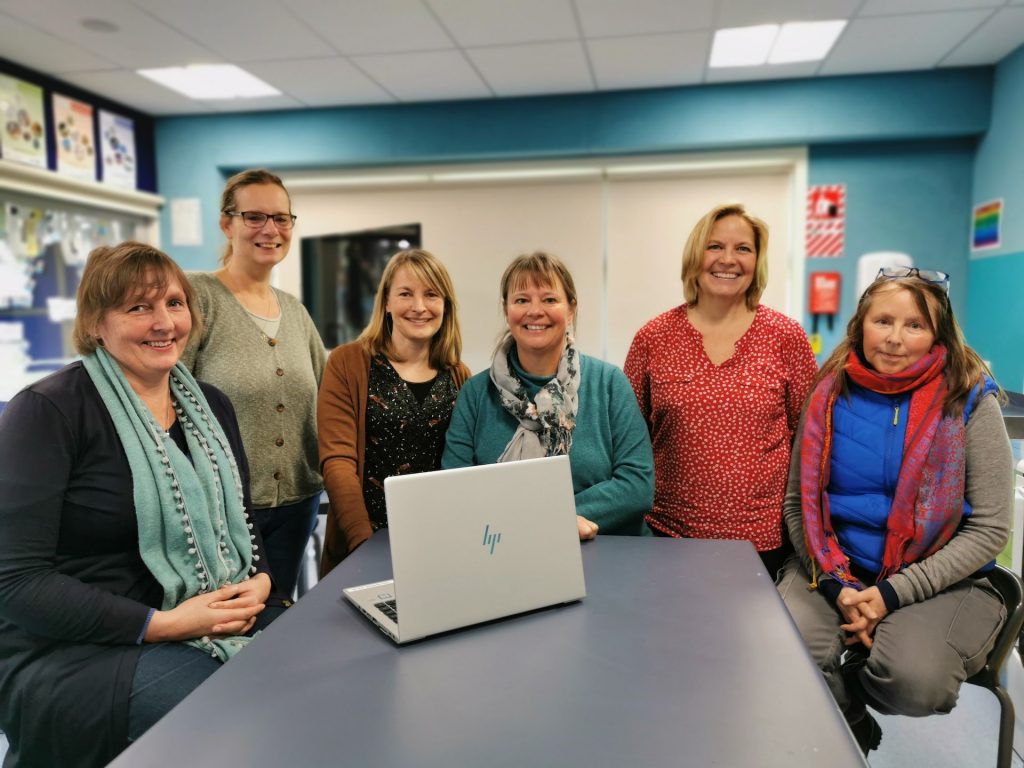 Our Teacher Aides are a valuable and essential part of the staff at Long Bay Primary. They work with the class teacher, SENCO (Special Education Need Co-ordinator) and Senior Leadership team to support students participate, engage and learn. They provide encouragement, extra assistance and guidance to help students become more confident and independent learners. Our Teacher Aides work in different ways depending on the needs of the students they are working with. They may work with an individual student or take small group sessions. Some of our support programmes are taken by Teachers Aides. These include the Rainbow Reading programme, Maths Knowledge groups, writing support and targeted literacy sessions. They also help new speakers of English.