Term 2, Week 1 – Friday 6 May 2022
Kia ora
I am old enough (unfortunately) to remember the fort and railway line that used to be the highlight of a visit to Long Bay. Riding Fred the train and going through the tunnel was always the best part of the journey, however even more vivid was the old wooden fort playground (at least that is how I remember it). My brother and I used to charge around playing tiggie, crawling underneath, around and through it and generally spending a very long time having great fun.
Running around Long Bay Regional Park over Easter I could not believe that someone would set fire to the playground and the damage they caused so easily. Who would do something that would have an impact over the ability for children to enjoy themselves. It is amazing how quickly you feel possessive of the local area, and I have only been here one term.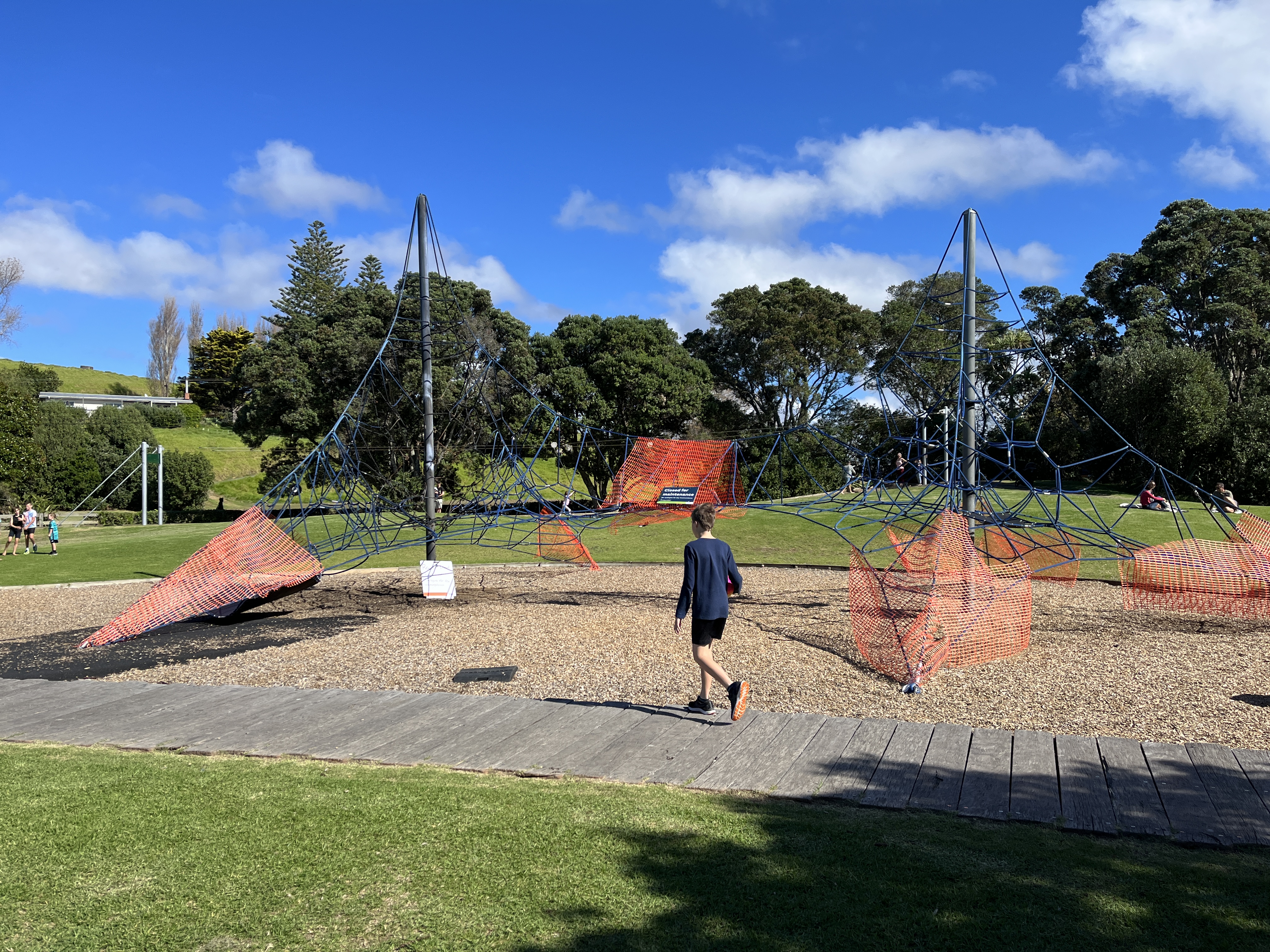 It is my firm belief that current and future Long Bay Primary students are developing the values and personal integrity that we all want in young (and not so young) people today. The Long Bay Way that has been developed is the cornerstone of this approach.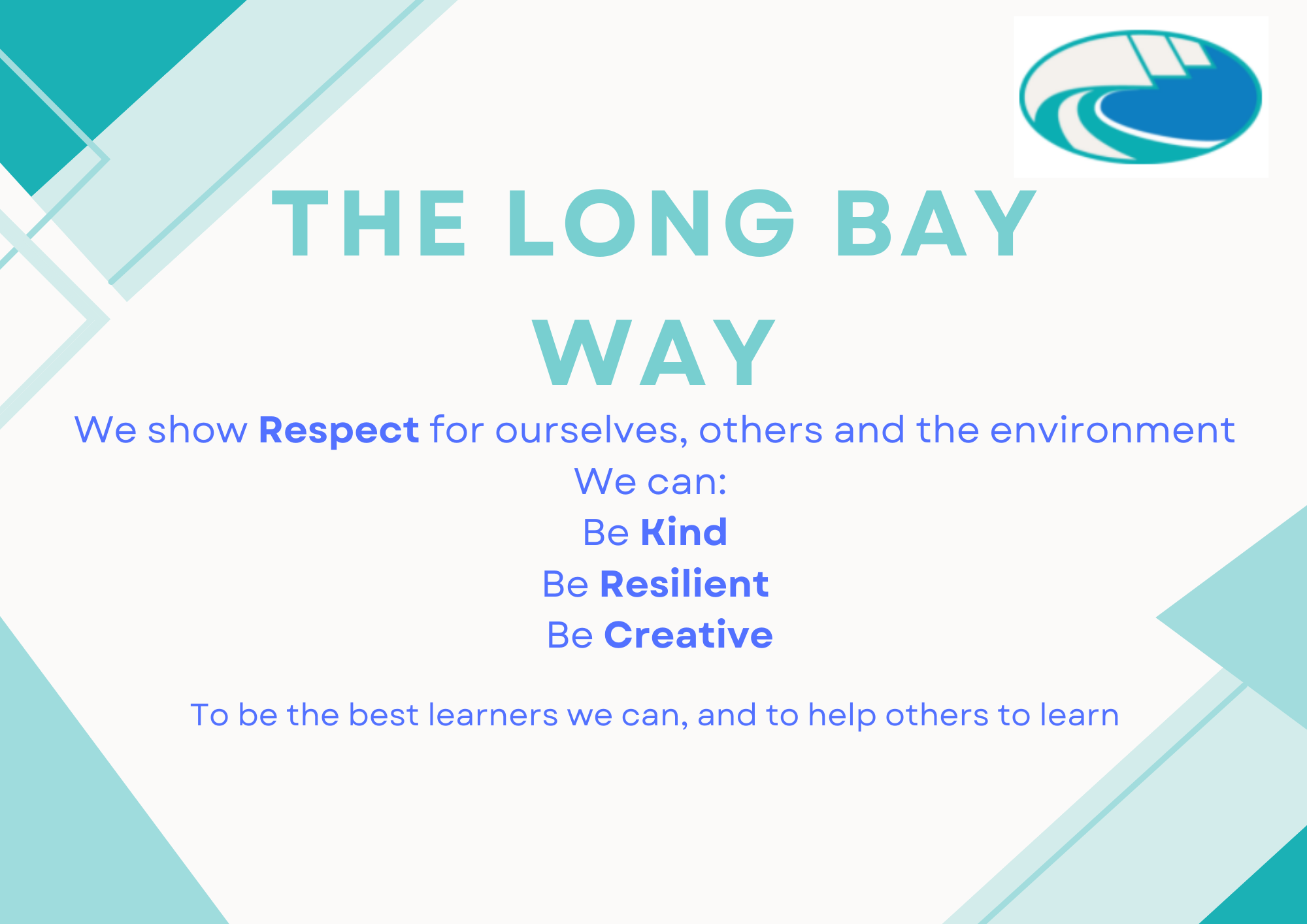 We expect our students, as they grow older, and somehow might find themselves at Long Bay Regional Park with their friends at interesting hours of the night, or morning, sometime in the future, will stop for a moment. What were the values that we stood by at school, that our family holds close, what do we want the society that we live in to be like?
Then they will be resilient and stand up for doing the right thing, be creative and suggest doing something else, or the hardest task of all simply say no. Of course teenage (and sometimes older) brains can go off the rails at times, however just like Fred they will eventually end up back on the right track. If we all work together and give the same subtle (or not so subtle) messages our young people will grow up to be the pillars of the community we all aspire them to be.
If you would like a copy of The Long Bay Way to stick on your fridge and subconsciously remind your children you can click here to download and print your own copy.
Rob Hutton
Tumuaki / Principal
Support our School by re-gifting tax rebates via myKindo. If you are one of many NZ families who do not collect your donation tax rebate each year, here's an easy way to support our school.
Next time you pay a donation on myKindo, you'll be offered to register with TaxGift. By registering with TaxGift, Kindo enables you to automate claiming the 33% tax rebate on your behalf (Kindo supplies the receipts directly to them). Rebates are then re-gifted back to the school as a new donation, to be used for enhancing the learning environment which will benefit all of the children across the school.
How it works:
Simply amplify your donation on myKindo after your order is processed
Select TaxGift
Check the circle next to our school
That's it, you have now registered to donate your tax rebate back to school – thank you.
Need assistance? Our Kindo help desk is open 8am to 4pm weekdays.
Absences
If your child is going to be absent from school, you need to inform the child's teacher and the Office. Please call 09 473 6077, email admin@longbayprimary.ac.nz or click here to report an absence. If your child is late to school, they must call into the Office to collect a late pass.
If your child has tested positive for Covid 19, you need to inform the school as soon as you are able to. Please click here to complete the Google form.
Safe Speeds School Programme is coming to Long Bay
Auckland Transport is going to lower the speed limit on a large number of streets around Long Bay Primary from 28 July 2022. You can view a map of the streets that will be impacted by clicking here.
Patience at the School Gate
We appreciate that at times the traffic outside the school gate can be frustrating with a line of cars waiting to pick up or drop off students. Our absolute main concern is the safety of our students and the school community. Please be patient and wait for your turn when you are in the line. This will allow the traffic to move more swiftly and safely. If you are parked in the middle car park please hold your child's hand when you are crossing the road.
Water Bottles
Please send your child to school with a filled water bottle, ready for them to start the day. This is to avoid children becoming dehydrated.
Nut Free and Wrapper Free
Long Bay Primary is a nut free and wrapper free school, please remember to remove wrappers prior to filling the lunch box. We do have a number of children that have a severe allergy to nuts and we ask parents not to include any nut products in their children's lunches.
2022 Term Dates and What's On
Monday 2 May – Friday 8 July
13-18 May – Scholastic Book Fair
9-13 May – Manuka swimming at Northern Arena
24 May – Rimu visit Auckland Zoo
27 May – PTA Donut Day
6 June – Queens Birthday Public Holiday (school closed)
15 June – Senior School Cross Country (save day 17 June)
22 June – Junior School Cross Country (save day 23 June)
24 June – Matariki Public Holiday (school closed)
28 June – Manuka visit Auckland Museum
Monday 25 July – Friday 30 September
Monday 17 October – Friday 16 December
24 October – Labour Day Public Holiday (school closed)
A warm welcome to our new students who have started at Long Bay Primary since our last Newsletter:
Layla, Jordan, Thomas, April, Berry, Aly Zain, Isabella, Tobias, Bodhi, Victoria and Albert
Donation Receipts via myKindo
Accessing your donation receipts on Kindo
You can view all your purchases, top-ups, refunds, cancelled orders and donation receipts using the 'my orders' option.
From the record type, you can select donation receipts, and choose to download individual receipts or download a summary of all your donation receipts.
More detailed instructions can also be found on the Kindo online support pages.
Board of Trustees (BOT) Update
The Board of Trustees have set up a new email address so that the community can contact them easily. For all BOT communications, please email:
Sports Buzz – Term 2, Week 1
Girls Basketball Programme
We are looking for girls in Years 3 – 6 who would like to try out basketball. This is a FREE programme offered to our school by Harbour Basketball. It will run on Thursdays at lunchtime from 19 May – 16 June.
Please register your daughter by emailing nikkid@longbayprimary.ac.nz as soon as possible.
Harbour Basketball is excited to once again bring our Girls Got Game programme into our community.
Girls Got Game is a fun and friendly basketball programme for primary and intermediate school age girls. Basketball is a fantastic sport for girls, helping to develop movement and thinking skills in a fun social team environment.
We are also able to offer a free basketball to every girl who participates in our programme!
Albany United Football Programme
Starting on Tuesday 10 May Albany United Football are running a lunchtime football programme. Please click on the link to register your child/children and for further information. https://www.albanyunited.org/shop/product/501742/long-bay-school-football-fun/
Yummy Stickers
The Yummy sticker promotion is underway for 2022, time to get crunching and collecting stickers. Last year threw us all some curved balls, but this year we are excited to be celebrating our 25th anniversary of running this promotion for schools. Sticker sheets are available from the Office.
Everything is basically the same as previous years. One thing you may find, is some Hailstone Hero apple bags. We had a wild spring storm hit us in Hawkes Bay, damaging a significant amount of our apple crop with hail. Although these look funny, they still taste yummy. The official cut-out is not on these bags, but you can collect the round bar-code sticker as 10 points. These are Yummy apples but branded Hailstone Heroes and available in both New World and Pak'n Save.
Scholastic Book Fair – 13-18 May
This year's Scholastic Book Fair will run from Friday 13 May to Wednesday 18 May. This year the Fair will only run after school until 4.00pm daily, with a 'late night' until 6.00pm on Tuesday 17 May. We need some Book Fair volunteers to help us. We will only require you to stay until the 'rush' has died down, normally around 3.30pm.
We would like to start up Kapahaka from next Tuesday 10 May. We will be based in the hall this year and the time will be from 8:00am to 8:40am. If you child is interested, please bring them along.
Thanks
The Kapahaka Teachers
Welcome back to term 2!
We would like to welcome Charlotte Kerr, Tracy-Ann Wilcock and our new treasurer, Kiri Walsh, to our team. Kiri is taking over from Arlene Wilkinson as her children have now moved onto intermediate, we really appreciate her time and efforts she has put into the PTA.
We are looking forward to our first meeting at school since August 2021, and planning for some exciting events.
The next PTA meeting is Tuesday 10 May
. Email us at
longbayprimarypta@gmail.com
to let us know you're attending or for any PTA enquiries. New members welcome!
Community Events and Notices