Term 3, Week 7 – Friday 9 September 2022
Dear Parents/Caregivers
Donating your time to help others is one of the things we can all do to show not only that we care, but we want to make a difference. Last year 22% of the population contributed 159 million hours worth $4 billion dollars to the economy by undertaking volunteer work.
A few weeks ago Micah from Room 15 came to me with the idea that she would like to collect food for the Salvation Army Food Bank. "A brilliant idea – off you go and make it work" was my response. Back she came with a comprehensive plan. Collecting food at the school gate on Tuesday and Thursday each day, a list of what the Salvation Army needed, and a few ideas on how to get it to them. With the Student Council wanting to have a fun dress up day the plan was born – asking everyone to donate food items to that as well. If you have spare non perishable food items, the collection will continue at the gate for the next couple of weeks. As you can see from our dress up day collection – the whole community has already taken this idea to heart, we are confident the Salvation Army will be extremely grateful for your contributions. Thank you!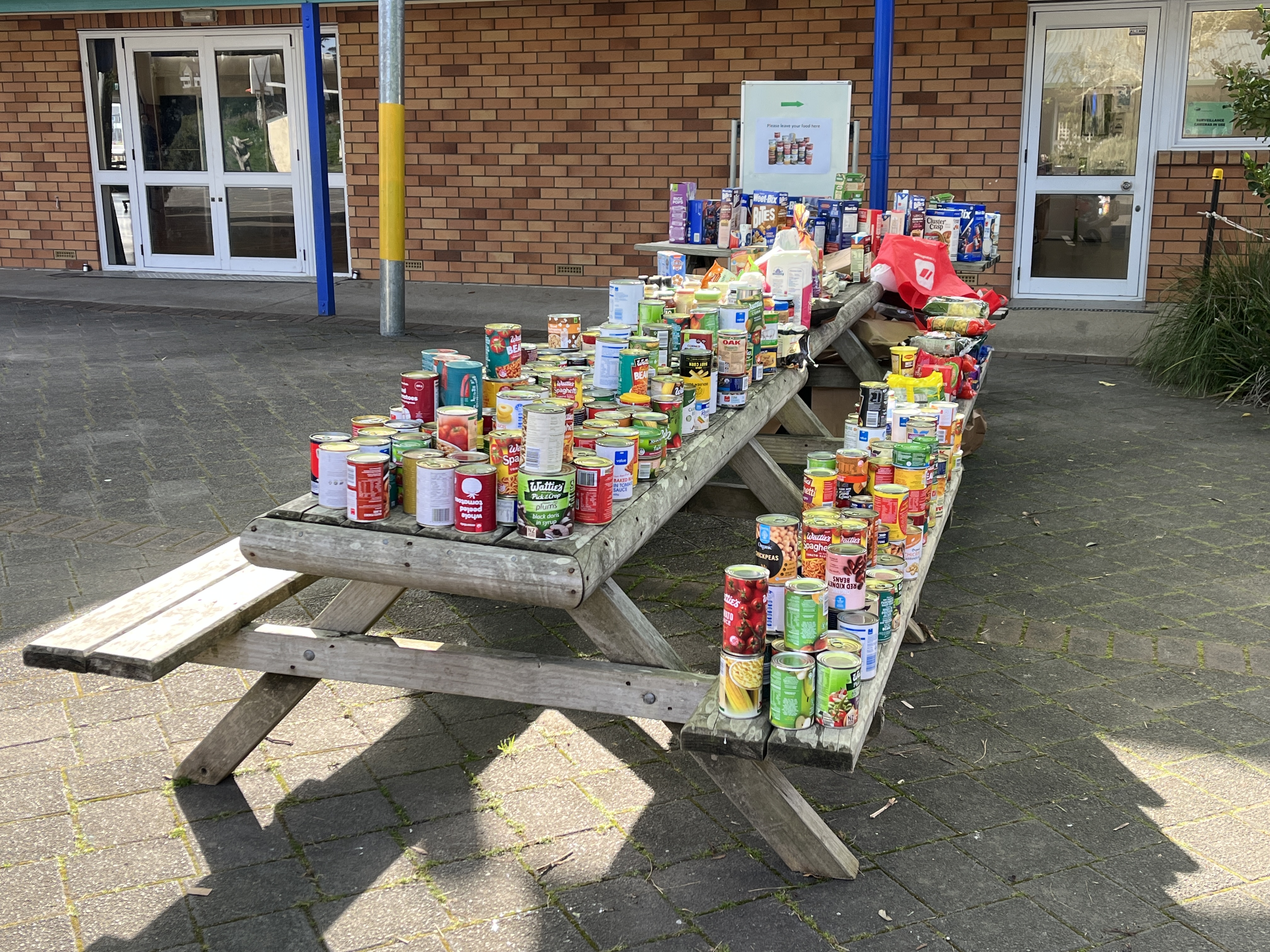 The other group in the school community I would like to mention is the outgoing school Board. I have no doubt that when they threw their names in the ring to stand back in 2019 they had no idea what was about to happen. It is thanks to their wise planning, astute governance and passion for the school that it is in such a good place today. With the ballot closed, postal votes being counted, and the results of the election due next week we are currently in a holding pattern. If you see Autumn, Kylie, Dave, Harushini or James out and about in the community you can be assured they had your, and more importantly your children's best interests at heart during their time on the Board. The new Board and election results will be shared with you all on Wednesday 14 September.
It would be remiss of me while talking about doing things for others without mentioning the death of Queen Elizabeth II. As a mark of respect for the 70 years of service she has dedicated to representing others we are flying the New Zealand flag at half mast to recognise her passing.
Rob
Tumuaki/Principal
2022 Term Dates and What's On
Monday 25 July – Friday 30 September
13 September – Sports Team Photos and Room 1 Class Photo
13 September – PTA Meeting, Staffroom at 7.00pm
15 September – Nikau to Auckland Zoo
15 September – Girls Y5/Y6 Futsal Tournament
16 September – Sustainability Challenge
16 September – Year 4-6 Talent Show Auditions
22 September – School Fun Mud Run
23 September – Born to Move in the Community
24 September – Music Concerts in the hall
29 September – Year 4-6 Talent Show
30 September – Last day of Term 3
Monday 17 October – Friday 16 December
24 October – Labour Day Public Holiday (school closed)
To help you plan ahead for next year here are the school dates for 2023:
Term 1 2023: Tuesday 31 January – Thursday 6 April
Term 2 2023: Wednesday 26 April – Friday 30 June
Term 3 2023: Monday 17 July – Friday 22 September
Term 4 2023: Monday 9 October – Friday 15 December
There will be a Teacher Only Day on Monday 24 April and Friday 2 June.
Public Holidays 2023
Auckland Anniversary Day – Monday 30 January
Waitangi Day – Monday 6 February
Good Friday – Friday 7 April
ANZAC Day – Tuesday 25 April
Queen's Birthday – Monday 5 June
Matariki – Friday 14 July
Labour Day – Monday 23 October
A warm welcome to our new students who have started at Long Bay Primary since our last Newsletter:
Chanel, Ethan, Zac, Elliott, Ashton and Elina
We are using Seesaw as a key piece of our communication plan. It is quick for us to send messages out to the correct audience effectively. Please take a moment to check your Seesaw app to ensure you have accepted invitations to any groups you have been invited to. If you do not have the app on your phone please follow these links:
IOS App Store (Apple iPhone)
Google Play Store (Android Phones)
If you are not sure how to get connected to your child or have lost your login details please check your emails for a Seesaw invitation, which needs to be accepted.
School Policies and Procedures
Our school Policies and Procedures have gone online.
We would like you all to be involved with our School Policies and Procedures. Each term there are a selected that you can check and review. We would like to hear your voice as part of this process. Information on how to access the site is listed below.
Search our school – it is called Long Bay School on the website. Then use these login details:
Community username: longbayprimary
Community password: beach
Once logged in, click on the top tab – current review. Each topic under review is in blue font. In each topic there is a green speech bubble, this is where you can send a message to the school with any feedback you have.
2023 Enrolment Applications
If you have a child turning 5 during 2023, or know of anyone else who has a child and wants them to come to Long Bay Primary next year, please let the Office know as soon as possible. All in zone children are guaranteed a place. Please email enrolments@longbayprimary.ac.nz
Out of Zone Enrolments for 2023
It was decided at the Board meeting this week that we are not taking any out of zone enrolments for 2023 due to roll growth within our zone. If you move out of zone during the year and have a sibling due to start school in 2023 they are not automatically guaranteed a place at Long Bay Primary due to zoning regulations.
Traffic Issues
With the wet weather the amount of traffic around the school (especially at 2.55pm) has increased significantly. Please do what you can to assist the traffic to flow by not blocking the local roundabouts. Please only move through the roundabout when there is a space to move to. This especially applies to the cars coming up Ashley Avenue and turning right into Ralph Eagles Place.
Kids Art Works Fundraiser
This year the school is participating in the Kids Art Works fundraiser. Each class is currently completing artwork to be advertised on their website. When all the artwork has been uploaded to the Kids Art Works site, you will be able to view your child's/childrens artwork and purchase any personalised products eg. calendars, greeting cards and mouse pad. Thank you in advance for supporting the fundraiser.
Contact Details Changes
If you have changed address or phone number please let the office know ASAP and we will amend our records accordingly.
School Starts at 8.55am
A reminder that classrooms open at 8.30am and school starts at 8.55am. We appreciate your assistance to get everyone here on time and ready to start their day.
In Science Kowhai has been learning about New Zealand native animals and their habitats. This week Room 1 has enjoyed the study of reptiles and what is special about their adaptations. We know many reptiles are meat eaters, they are exothermic and have scales to protect themselves.
Born to Move – Family Sessions
On Friday 23 September the school is hosting Les Mills Born to Move classes led by our student instructors. Please meet outside the school hall at 1.25pm ready for a 1.30pm start. Our leaders have some new and exciting tracks. Come ready to move and groove with your tamariki! All welcome!
Salvation Army Food Drive
Micah in Room 15 is leading a food drive to support the Salvation Army. She will be collecting the following items before and after school at the gate each Tuesday and Thursday starting on Tuesday 6 September until Tuesday 27 September:
Non perishable food items (canned foods)
Pasta
Cereals
Can you sing? Dance? Play an instrument? Cool tricks on your scooter? Do gymnastics? Do martial arts? Do syncrhonised swimming? Can you do something else amazing?
We are going to have a Talent Show for Year 4-6 students – show us what you can do! Auditions will be held on Friday 16 September. You can either send through a video to mirandak@longbayprimary.ac.nz OR perform live at the auditions.
Ten performers will be selected to show off their skills at our Talent Show on Thursday 29 September.
Music Concerts – The 'CANMA' Awards
Pupils of Mrs Thompson and Mr Morgan will be performing in two concerts on Saturday 24 September in the school hall. All parents, family and friends are welcome to come and join us for a hour or two of musical delights featuring many of your favourite movie and TV themes.
Junior Show 3.30pm (Years 0-5)
Senior Show 6.30pm (Years 5-13+)
Any questions, please contact Carolyn 021 173 9305 or Nick 021 089 61641. Gold coin donation upon arrival gratefully received to contribute for sound and lighting equipment for the concerts.
Sports Buzz – Term 3, Week 7
Netball – Long Bay 6/1 and ECB Avengers
Undefeated in the Kidzplay Competition and completed the season with a win against Wainui 19-12 another tough game with some nervous moments but they smashed it out of the park! We came second in the Harbour League, but again another awesome season. The following awards given out at Prizegiving last week:
Long Bay 6/1 – Harbour Team Awards
MVP – Makenzie
Rising Star – Leah
Wahine Toa – Theresa
ECB Avengers – Kidzplay Awards
Rising Star – Libby
Wahine Toa – Micah
Thank to you everyone for all the support this year, it has been greatly appreciated.
School Fun Run
The Fun Run is coming up on Thursday 22 September. It is an opportunity for us all to get wet and muddy, and rather colourful and is also our major fundraiser of the year. The money raised will not only fill our Loose Parts Lounges with a range of equipment for students across the school to play with but will also help to ensure our new Structured Literacy resources are able to stretch from Year 0 all the way through to Year 6. Unlike in the 'good old days' walking the streets to gain sponsorship is not something we would recommend. Conveniently you can direct any potential sponsors from anywhere in the world to help us out by logging in or registering on this website. Then it is just a case of creating a profile for your child and sharing the sponsorship link via email, Facebook or other social media platforms. Anything that we can raise will go directly back into resources that will enhance the learning experiences for our students directly. As a bonus all students who gain over $10 in sponsorship will get to choose a prize.
Sign up now at https://schoolfundraising.co.nz/
Yummy Stickers
Keep collecting all your Yummy Stickers! The more stickers collected, the more sports equipment we receive. Yummy Sticker sheets are available from the Office. Please hand in your sticker sheets by the end of this term to earn sports equipment.
Are you wanting to help in some way? but don't have the time to commit to meeting?
We are looking for helpers who are available from time to time to support our events
Our next PTA meeting is on Tuesday 13 September, in the staffroom at 7.00pm. New members always welcome!
Community Events and Notices