Term 3, Week 9 – Friday 23 September 2022
We have been working hard to promote our school values – kindness, resilience and creativity with the students. Pushing the positive and looking around the playground and within classrooms to find everyone who is living our school values daily. There seemed to be only one way to recognise those who we 'catch being good' – in front of the whole school. Given we have been devoid of massed gatherings this year and the opportunity to connect with each other and share messages to the whole school in one go it is definitely time to bring back assemblies.
There were 3 languages to choose from when I went to school – Russian, French or Indonesian (and I chose Bahasa Indonesia). I was pretty chuffed when I picked the origin of the word assembly to be French. From about 1300 it has been used to describe a gathering of persons or a group gathered for some purpose. Our purpose is to connect with each other, share what we have been doing and celebrate success within the school.
We are going to try something different this year – moving school assemblies to Friday afternoon starting at 2.15pm. This will provide an end to the week that is uplifting and something to look forward to. Please come and join us in the hall if you have the opportunity. We will love to have you there.
Our first full school assembly for 2022 will be held on Friday 30 September starting at 2.15pm.
Rob
Tumuaki/Principal
2022 Term Dates and What's On
Monday 25 July – Friday 30 September
24 September – Music Concerts in the hall
25 September – Kapahaka performing at Long Bay Heritage Day
26 September – Public Holiday, school is closed
28 September – Lockdown Trial Evacuation
29 September – Year 4-6 Talent Show
30 September – Last day of Term 3
30 September – Mufti/Non Uniform Day
30 September – Full school assembly, 2.15pm in the hall
Monday 17 October – Friday 16 December
17 October – First day of Term 4
17 October – PTA Raffle tickets go home
24 October – Labour Day Public Holiday (school closed)
27 October – Kauri Year 5 to Woodhill Forest
27 October – Year 6 to Waterwise
31 October – Kauri Year 6 to Woodhill Forest
3 November – Year 5-6 Badminton Tournament
To help you plan ahead for next year here are the school dates for 2023:
Term 1 2023: Tuesday 31 January – Thursday 6 April
Term 2 2023: Wednesday 26 April – Friday 30 June
Term 3 2023: Monday 17 July – Friday 22 September
Term 4 2023: Monday 9 October – Friday 15 December
There will be a Teacher Only Day on Monday 24 April and Friday 2 June.
Public Holidays 2023
Auckland Anniversary Day – Monday 30 January
Waitangi Day – Monday 6 February
Good Friday – Friday 7 April
ANZAC Day – Tuesday 25 April
Queen's Birthday – Monday 5 June
Matariki – Friday 14 July
Labour Day – Monday 23 October
A warm welcome to our new students who have started at Long Bay Primary since our last Newsletter:
Alysa, Peter and Amelia
There have been a number of improvements to the Seesaw app recently. If you have not updated your version recently please double check using the links below:
IOS App Store (Apple iPhone)
Google Play Store (Android Phones)
School Policies and Procedures
Our school Policies and Procedures have gone online.
We would like you all to be involved with our School Policies and Procedures. Each term there are a selected that you can check and review. We would like to hear your voice as part of this process. Information on how to access the site is listed below.
Search our school – it is called Long Bay School on the website. Then use these login details:
Community username: longbayprimary
Community password: beach
Once logged in, click on the top tab – current review. Each topic under review is in blue font. In each topic there is a green speech bubble, this is where you can send a message to the school with any feedback you have.
2023 Enrolment Applications
If you have a child turning 5 during 2023, or know of anyone else who has a child and wants them to come to Long Bay Primary next year, please let the Office know as soon as possible. All in zone children are guaranteed a place. Please email enrolments@longbayprimary.ac.nz
Out of Zone Enrolments for 2023
We are not taking any out of zone enrolments for 2023 due to roll growth within our zone. If you move out of zone during the year and have a sibling due to start school in 2023 they are not automatically guaranteed a place at Long Bay Primary due to zoning regulations.
School Closed Monday 26 September – Queen Elizabeth II Memorial Day
Long Bay Primary will be closed on Monday 26 September to mark the passing of Queen Elizabeth II.
Chinese Language Week
Next week is Chinese Language Week and we are looking forward to celebrating this in a variety of different ways across the week.
Long Bay Heritage Day
Our Kapahaka group is opening the Long Bay Heritage Day at Long Bay Regional Park on Sunday 25 September at 10.00am. Everyone is welcome to watch them perform and enjoy the range of activities on offer until 2.00pm.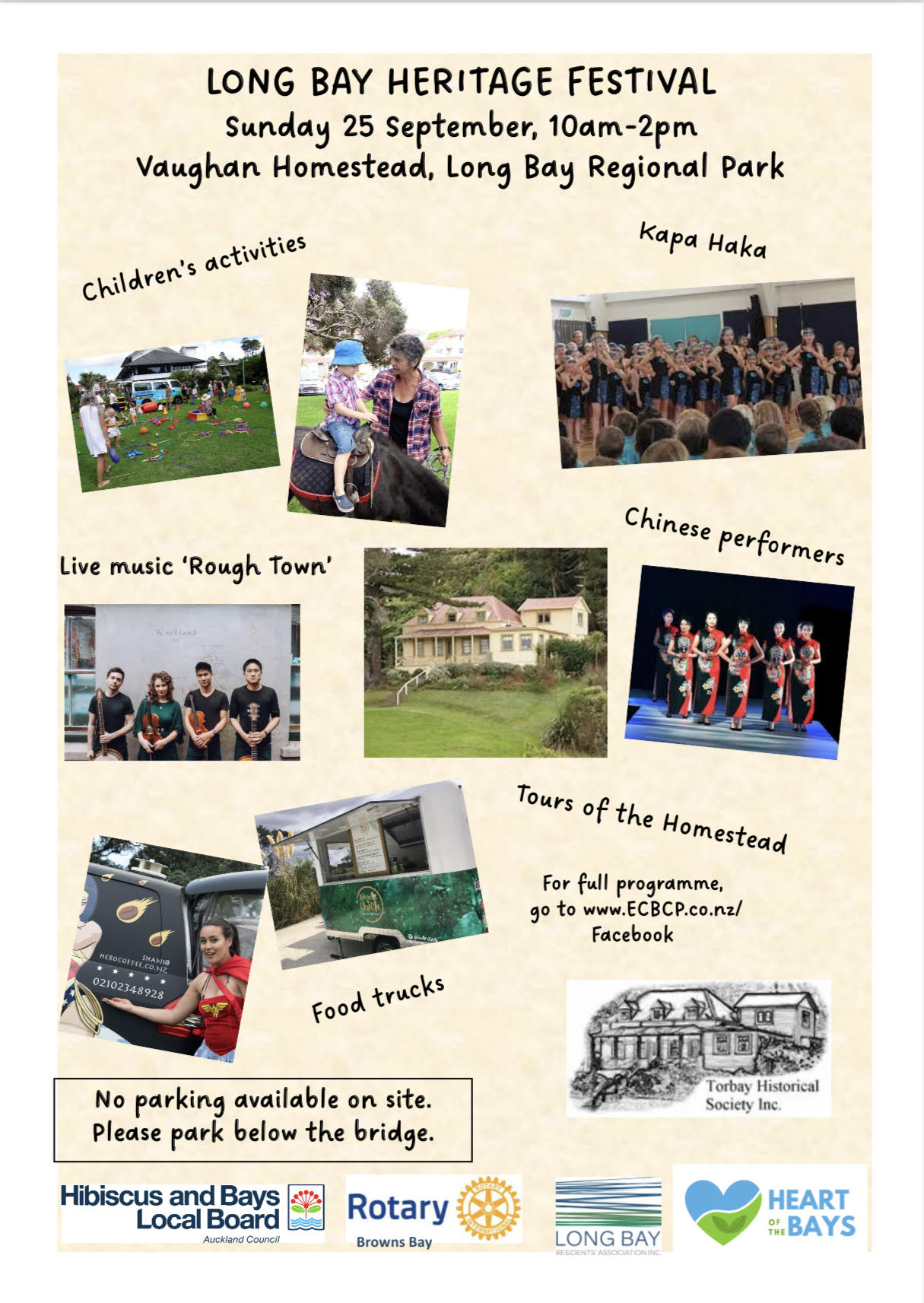 Seatbelts
A reminder that it is important everyone in the car wears a seatbelt until the vehicle stops moving. Constable Fox was back this week checking vehicles have correctly restrained children (and adults) in them. He has ended his 'education' phase and moved into enforcement. Basically this means if you drive your car and everyone is not wearing a seatbelt you may receive a ticket.
Kids Art Works Fundraiser
This year the school is participating in the Kids Art Works fundraiser. You would have received an order form to purchase your child's artwork. Please go to www.kidsartworks.com and enter the code KZ895 to view the artwork. Online orders only. Orders are open now and close Friday 30 September. Thank you in advance for supporting the fundraiser.
Contact Details Changes
If you have changed address or phone number please let the office know ASAP and we will amend our records accordingly.
School Starts at 8.55am
A reminder that classrooms open at 8.30am and school starts at 8.55am. We appreciate your assistance to get everyone here on time and ready to start their day.
Mitey Impact Report
As a proud Mitey school we value the mental health of our school family (students, staff and community). The University of Auckland have been evaluating Mitey's impact in schools. They concluded that Mitey has the potential to radically transform mental health education in Aotearoa.
It is incredibly satisfying to know that Mitey is making significant impact with ākonga, who are demonstrating meaningful progression in learning how to recognise and respond to their own and others' mental wellbeing.
The Mitey Impact Report makes for interesting reading.
Kia Manawaroa
Kia Manawaroa is the Ministry of Education's pānui for whānau Māori.
It is written by Māori for Māori, with information about opportunities and milestones in education, Māori success as Māori, Te Reo Māori, and COVID-19 updates relevant to whānau as and when appropriate.
Kia Manawaroa 9 September 2022
The latest issue has updates about:
Te Wiki o te Reo Māori 2022 activities and events

He Toa Reo Māori, 50 years on: Te Petihana Reo Māori Anniversary Event

Ākonga learn resilience through the art of Mau Rākau

New scholarships available for kōhanga reo tohu

Te Reo Ki Tua Language Revitalisation Symposium 2022

And more…
Fun Run 2022
What a fantastic day we had yesterday. We raised $19,837.50 as a community that will go a long way to help us implement our learning through play and structured literacy plans. A huge shout out to the PTA and helpers for making over 500 hot chocolates for the students. Thanks to Nikki Douglas for pulling it all together and John Underwood for all his hard work setting things up and helping out. Thanks also to New World Long Bay – Marcus, Ally and the team for supporting our school donating all the hot chocolate ingredients. We would also like to give a special mention to Susan Kinghorn – Harcourts Cooper & Co Real Estate for the coffee truck for parents. Finally we were blown away by the wonderful families who came to watch and support us.
In Room 22 we have been learning about native birds. The students have been learning how to research, take notes and write information in their own words. Here are some examples of our eye-catching and informative posters.
Salvation Army Food Drive
Micah in Room 15 is leading a food drive to support the Salvation Army. She will be collecting the following items for the last time before and after school at the gate on Tuesday 27 September:
Non perishable food items (canned foods)
Pasta
Cereals
We are going to have a Talent Show for Year 4-6 students – show us what you can do!
Ten performers will be selected to show off their skills at our Talent Show on Thursday 29 September.
Music Concerts – The 'CANMA' Awards
Pupils of Mrs Thompson and Mr Morgan will be performing in two concerts on Saturday 24 September in the school hall. All parents, family and friends are welcome to come and join us for a hour or two of musical delights featuring many of your favourite movie and TV themes.
Junior Show 3.30pm (Years 0-5)
Senior Show 6.30pm (Years 5-13+)
Any questions, please contact Carolyn 021 173 9305 or Nick 021 089 61641. Gold coin donation upon arrival gratefully received to contribute for sound and lighting equipment for the concerts.
Sports Buzz – Term 3, Week 9
Last week we had students attending the Year 5/6 Girls Futsal tournament.
Futsal is played indoors and is a modified, and very fast, game of football. Our students improved with every game and had a lot of fun.
Sustainability Challenge
The Sustainability Challenge is an orienteering type of challenge with environmental challenge stations set up around the course. Our students had to read a map, and plan out their best course of action to complete the challenge within the two hour time limit. Each team had an adult shadowing them, who had to try to keep up with the students, and let them make their own decisions. Every team worked superbly together and finished on time. Our Year 5 girls team won the Year 5/6 division, and actually placed 4th overall – beating many Intermediate teams. They won some native trees which were planted on the school grounds this week.
Special thanks to the adults who volunteered to shadow the teams.
Yummy Stickers
Keep collecting all your Yummy Stickers! The more stickers collected, the more sports equipment we receive. Yummy Sticker sheets are available from the Office. Please hand in your sticker sheets by the end of this term to earn sports equipment.
Are you wanting to help in some way? but don't have the time to commit to meeting?
We are looking for helpers who are available from time to time to support our events
The next PTA meeting is Tuesday 25 October, 7.00pm in the staffroom.
Kelly Club and Kelly Sports Notices
Community Events and Notices
Play Cricket with East Coast Bays Cricket

Registrations for the cricket season are now open. Please register online at eastcoastbayscricket.co.nz
East Coast Bays Cricket is one of the largest clubs on Auckland's North Shore, providing cricket for all ages and all levels. The Club is focused on fun, teamwork and performance providing children of all skill levels a chance to learn the game in an enjoyable environment.
The uniform comprises a club shirt, club shorts or trousers, and club cap. The Club has the clothing available for purchase and the full range will also be available on muster day. The Club provides all playing equipment required, although you are welcome to use your own. Please contact the Club for more information at ecbayscricket@gmail.com