Term 1, Week 7 – Friday 25 March 2022
Kia ora
When you are looking to make a positive change that will benefit either yourself or other people, following the correct process is always going to help your cause. Having a strong student voice in a school reflects a healthy and proactive student body who are confident in themselves, know what they want and are working towards achieving it.
The first petition I received involved creating an electric club to ensure that all of the lights and other electrical items at school are turned off when they are not being used. This was shortly followed by (in no particular order) requests to:
Climb the library tree

Put a swing on the library tree

Create a bike track

Increase the size of the gardens

Improve the quality of the toilet paper

Buy the school horses that we can ride

Lunchtime sports club
With 126 signatures (to be fair including my own) the toilet paper petition was immediately the most compelling. Wilbur, Tom and Nixon were invited to a meeting with John, our property manager and myself. They presented their petition and the case for an upgrade from 1 to 2 ply paper for the students. We sat and listened to their case and were impressed.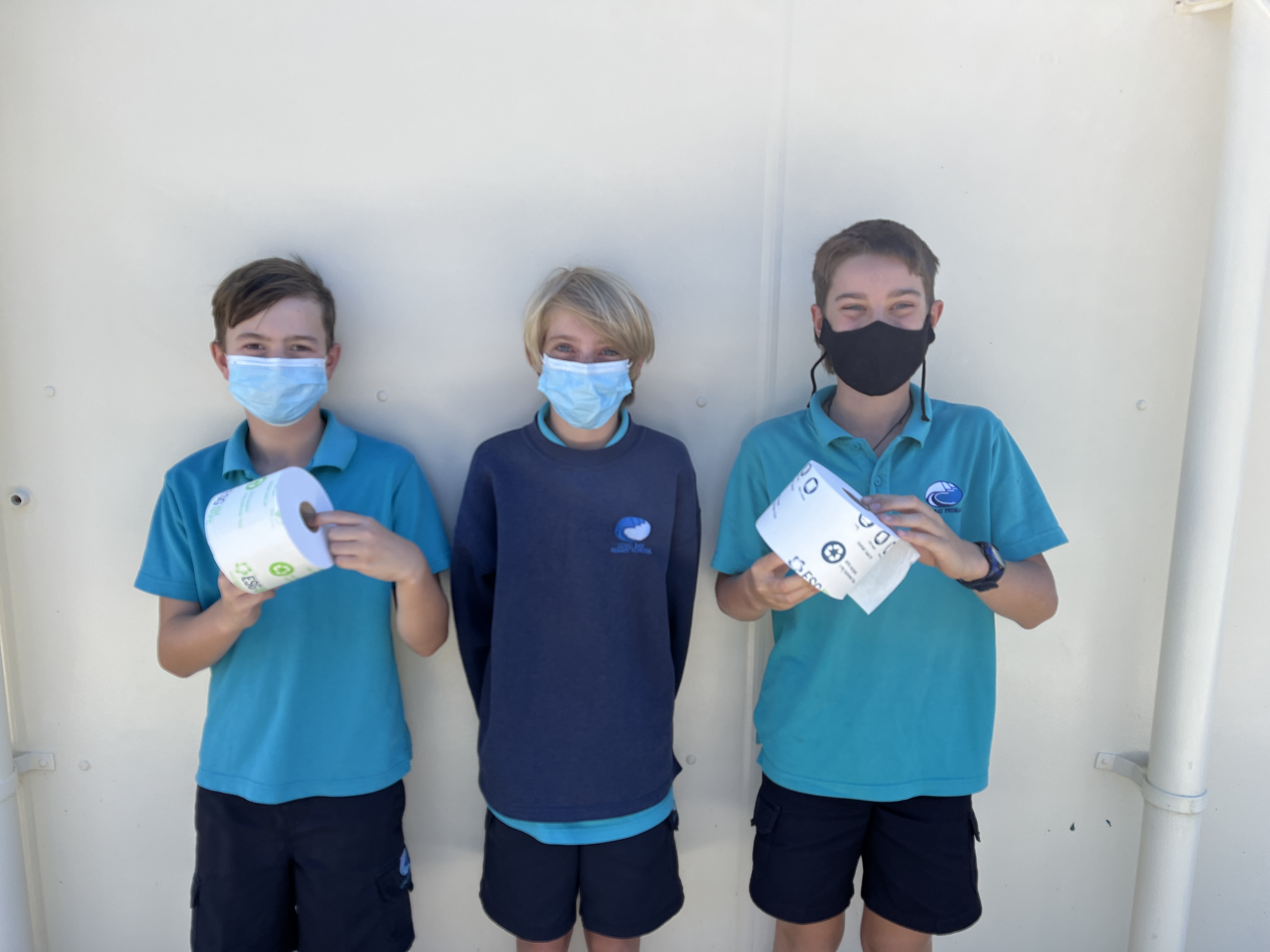 John is nothing if not prepared. He had contacted our supplier and had all the facts. There are 1755 sheets on a 1 ply roll and 865 on a 2 ply. They cost exactly the same and are the same size. With thicker paper you actually use less (who would have known that) as the user has greater confidence in the product doing the job well.
To be perfectly honest I had been here 6 weeks at this stage and never in my wildest dreams imagined I would be having this conversation! It turns out this job is much more than just about the curriculum and organising the budget.
The boys proposed a blind test where we would change some paper around the school. They then completed a survey and presented us with their results. Not only did they have graphs and extensive data, but also a compelling rap explaining their case.
To cut a long story short John has returned our unopened boxes of 1 ply paper. By Term 2 all dispensers will be stocked with the new and improved product. Wilbur, Nixon and Tom can be confident they have made a positive difference for all of the students in the school today, and going forward, future generations of Long Bay Primary students.
It is safe to say a Long Bay Primary Equestrian Centre is not on the cards anytime soon, however we have gone to look at the horses in the field bordering the school which kept everyone happy for a few minutes. By following the right process the boys showed just what could be achieved in a short time. Wheels Day is coming up which will keep the bike track at bay for a while longer, and the library tree is still a work in progress.
A school where the students have a voice, can take ownership of their learning and are able to make choices that benefit themselves is a healthy one.
Bring on the next list of signatures that slide under my door. I just have no idea what is coming next, but know that by following a process we might just be able to achieve something great.
Rob
Tumuaki/Principal
Support our School by re-gifting tax rebates via myKindo. If you are one of many NZ families who do not collect your donation tax rebate each year, here's an easy way to support our school.
Next time you pay a donation on myKindo, you'll be offered to register with TaxGift. By registering with TaxGift, Kindo enables you to automate claiming the 33% tax rebate on your behalf (Kindo supplies the receipts directly to them). Rebates are then re-gifted back to the school as a new donation, to be used for enhancing the learning environment which will benefit all of the children across the school.
How it works:
Simply amplify your donation on myKindo after your order is processed
Select TaxGift
Check the circle next to our school
That's it, you have now registered to donate your tax rebate back to school – thank you.
Need assistance? Our Kindo help desk is open 8am to 4pm weekdays.
Absences
If your child is going to be absent from school, you need to inform the child's teacher and the Office. Please call 09 473 6077, email admin@longbayprimary.ac.nz or click here to report an absence. If your child is late to school, they must call into the Office to collect a late pass.
If your child has tested positive for Covid 19, you need to inform the school as soon as you are able to. Please click here to complete the google form.
Water Bottles
Please send your child to school with a filled water bottle, ready for them to start the day. This is to avoid children becoming dehydrated.
Nut Free and Wrapper Free
Long Bay Primary is a nut free and wrapper free school, please remember to remove wrappers prior to filling the lunch box. We do have a number of children that have a severe allergy to nuts and we ask parents not to include any nut products in their children's lunches.
Covid-19 Update
With the changes announced by the government that will take effect at midnight tonight around outdoor gatherings we will make one change here at Long Bay Primary. The students will be able to use any area of the school playground during break times from Monday. We will keep all other measures the same for the remainder of this term while the red traffic light conditions remain in force. This will be reviewed as the advice from the Ministry of Education changes. We will keep you informed of any other modifications to our plans before they occur.
2022 Term Dates and What's On
Thursday 3 February – Wednesday 13 April
Thursday 31 March – Year 6 Waterwise
Friday 8 April – PTA Wacky Hair Mufti Day, gold coin donation for Save the Children

Tuesday 12 April – Wheels Day
Wednesday 13 April – Last day of Term 1
Thursday 14 April – Teacher Only Day (school closed)
Monday 2 May – Friday 8 July
6 June – Queens Birthday Public Holiday (school closed)
24 June – Matariki Public Holiday (school closed)
Monday 25 July – Friday 30 September
Monday 17 October – Friday 16 December
24 October – Labour Day Public Holiday (school closed)
New School App – March Release
Please go to the App/Play store and update the app to get the most out of the latest functionality. An update should be all that is required, but if people are still facing any issues then they should uninstall and reinstall the app. Great way to report absences and view school notices.
Here is a QR code for families that are yet to install the app on their mobile phones.
A warm welcome to our new student who has started at Long Bay Primary since our last Newsletter:
Jeffrey
Donation Receipts via myKindo
Accessing your donation receipts on Kindo
You can view all your purchases, top-ups, refunds, cancelled orders and donation receipts using the 'my orders' option.
From the record type, you can select donation receipts, and choose to download individual receipts or download a summary of all your donation receipts.
More detailed instructions can also be found on the Kindo online support pages.
Players are needed in the following sports:
Hockey Year 5/6 – we need 2 more players urgently. No prior experience necessary.
Hockey Year 3/4 – we need 5 more players. Please consider this sport, it is great for speed, agility, fitness and hand/eye coordination.
Rippa Rugby Year 3/4 – we need more boys and girls players from Years 3 and 4.
For all sports enquiries, please email Mrs Douglas at nikkid@longbayprimary.ac.nz
Long Bay Primary School Whale Tail
Long Bay Primary was thrilled to be part of the 2022 Whale Tales trail and learning journey. We are so grateful to Stuff for their sponsorship which made this possible. In February we picked up our mini whale tail.
A small group of students were invited to design and paint our mini whale tail. Key to the design was our connection to and celebration of the local marine environment. We wanted to show how important Waiake is to us with its fish and plants and also a place where we can enjoy doing things like Waterwise. We need healthy oceans and we need to be aware of what we can do to protect and restore the sea around us.
After agreeing on a design we carefully painted the whale tail. The whale tail has joined others to make a mini pod which is on display at the East Coast Bays Library.
This has been a wonderful opportunity. We have learnt about whales and contributed to the Whale Tales Trail. Again many thanks to Stuff.
For new families to our school, in previous years we have held events such as disco's, light up the playground, ice block days and movies in the park to name a few. We are in need this year of new families to join our team. If you would like to know more and/or want to meet parents within the school, we welcome you to join one of our meetings to see what we are about.
The next PTA meeting is Tuesday 10 May. Email us at longbayprimarypta@gmail.com to let us know you're attending or for any PTA enquiries. New members welcome!
Community Events and Notices